Dear Geoffrey,
Thanks again for your letter and for welcoming me to the International Society for Philosophers!
Why I have joined the ISFP?
Today I am 42 years old, married and lucky to have an 18 years old stepson and a 16 years old stepdaughter.
Three years ago I left my so far very successful business career just out of a feeling. There was little pain in giving up company car, stock options, high income and supposed high reputation in society. By leaving the western world and going to Turkey where life is more original, less organised and not so much focussed on being successful and productive, I allowed myself the luxury of having spare time available. In Turkey you find long lasting summers and nature which presents a marvellous sunset every evening, surrounded by a wonderful landscape. You can feel as if all you want is to bathe in nature every single day. I have started to read spiritual books. The Daughter of Fire written by Irina Tweedie was my first one. Many others followed (my favourite writer is Llewellyn Vaughan-Lee).
What a change! From being a young, successful, always well dressed business woman jetting through the world to attend important meetings, to a middle aged woman wearing most times clothes worth not much more than 5 Pounds, sitting on a lonely beach and reading spiritual books.
What has happened? Now values are reordered and extended. The 'I' is not as important as it was before. Suddenly life simply flows and is full of joy, high spirits and power. There is so much to tell, to show, to share and to explain. And still there is so much to learn.
But how? I felt the strong desire for expression and tried to paint, to sing, to write and to talk, but my fingers did not move and my voice kept dumb. I am convinced that this is the point where philosophy comes in. I have not learned to see things in a non-pragmatic view. I can feel 'it', but I am not able to express 'it'. I do not know yet the way how philosophers think, but I do know, that for me philosophy is the most promising key for free expression leading to positive developments in oneself, within the family and your friends and, last but not least, within society.
To learn more about this unknown way of thinking and this form of expression I have joined ISFP and also plan to join one of Pathways distance learning programs.
I am looking forward to getting in touch with philosophers!
Yours sincerely,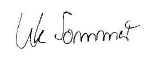 Ute Sommer